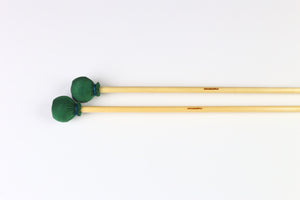 Medium Soft Light (M2L)
Great bass or tenor mallet with a graduated set. Sounds best in the bottom 3.5 octaves of a 5-octave instrument. Clear yet very warm. Also works well for some 2-mallet solos, especially Bach cello suites.. The rattan is between 8.5 and 8.75mm in diameter (approximately 11/32).
LIGHT MARIMBA STICKS
Our new line of Light marimba sticks are designed exactly as our standard M-series sticks, but with smaller, lighter cores.  Clean, clear sound, ideal for a wide variety of solo and ensemble repertoire.  The reduced diameter and mass of these sticks makes them slightly brighter and much more athletic and maneuverable than our M-series.  They're also a great choice for younger, smaller hands.