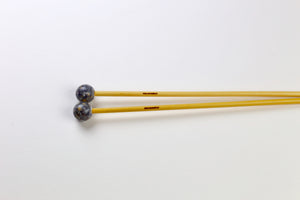 Corian Medium (COM)
The medium 15/16" ball Corian sticks ideal for Pines, Petrouchka, Sorcerers et al. Perfect weight for lots of general purpose playing, especially fast, athletic passages.
Corian Series
Corian is a molded acrylic plastic and is harder than phenolic. It is nearly as bright as brass or aluminum but has the resilience and greater dynamic range of plastic. Please note that we use scrap Corian pieces to produce these in order to keep costs affordable. As a result, each batch of 15-30 pairs of sticks may be different colors. This does not effect the sound and is purely cosmetic.
Limited Return Policy/Warranty:  Corian is a material that occasionally chips and splits.  Most pairs will be just fine and we feel the quality of sound is worth the occasional issue.  However, if you purchase a pair of Corians and they become unplayable within one year of purchase, we will replace them.  You will be responsible for shipping costs.  Please email at questions@dragonflypercussion.com.