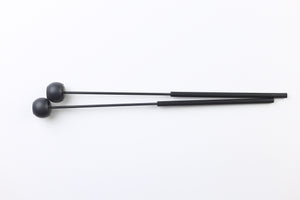 1" Black "Celeste" (CEL)
1" black phenolic ball with a small brass insert covered in a thin layer of rubber.  This mallet turns your glock into a celeste.  It is super warm with far less "tick" than typical plastic and brass sticks, yet still has adequate clarity and projection for use in the orchestra. Ideal for Forest Murmers, La Mer, Don Juan, and the like.
Purchase any 4 and receive a 5th at 50% off.  Discount is added automatically in shopping cart.