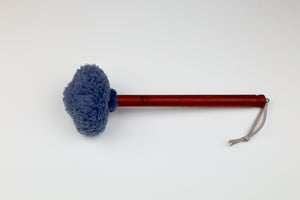 Resonance Series F1 Small (RSF1)
The Resonance Series F-Line consists of three gong mallets on hand-turned Padauk wood handles. 
The handles have a slight taper and a small knob on the bottom end. 
This design perfectly balances the heavy cores of each model. 
Each mallet is wrapped in high-quality synthetic Sherpa fleece. 
A removable eye bolt is threaded into the bottom of the stick and sports a color-coded hanging strap for easy identification of each mallet.  
****
The F1 small is a compact mallet that packs a surprising punch.  This stick is incredibly versatile.  It comfortably plays gongs as small as 18"  and as large as 60".  It elicits an immediate response from the gong with a beautiful spread of high and low overtones.  The low-profile disc shaped core is bolstered by two steel weights and is covered in a layer of soft felt and synthetic Sherpa.  It is an easy-playing stick that is super maneuverable but still capable of a rich, full sound.