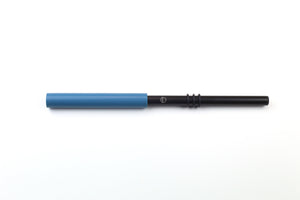 Silicone Wand Small (RBI-SWS)
These sleek aluminum and silicone wands feature a lightweight feel, to prevent fatigue in longer sessions; a full, beautiful tone, free of the white noise hiss typical of suede-style PVC wands; and the durability to protect your crystal bowls in any scenario. No more breaking glass wands on a yoga studio floor!
​The small wand is great for smaller diameter bowls (6"-9")The thick silicone tubing is also soft enough for striking the bowls.  Each wand comes with three adjustable rubber ring sliders to customize the wand to your feel, balance, and grip. Best with frosted crystal bowls.
"​The lightweight, hollow aluminum design is a hat-nod to my orchestral roots and the pedagogy of Fred Hinger (1920-2002; Philadelphia Orchestra and Metropolitan Opera), who used aluminum to produce mallets with both the weight and feel of bamboo with the consistency of a man-made material. These are the first crystal bowl mallets I've worked with whose intuitively responsive feel matches the lush sound template I have in my mind. Nothing else comes close!" -Benjamin Irons
Specs
Small: 13mm diameter x 11" long