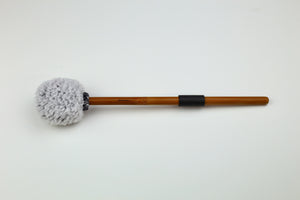 Resonance Series BabyBucket (RSBB)
Our little family of FuzzBuckets has grown again with the addition of the positively adorable BabyBucket.
This diminutive stick features a small, egg-shaped core with the same super soft covering as its larger cousins on a lovely bamboo handle- (approximately 1/2" diameter x 12 ¼" long) which sports a small foam grip.
It creates a beautiful, transparent sound on gongs of all sizes as well as singing bowls.
With virtually no attack and a comfortable, resilient feel, this is a mallet you'll keep coming back to.
Excellent both as a pair of rollers or as an individual stick.